Hi, as you probably have seen I am doing some pic-micro projects with the 877A following the Circuit Digest tutorials. This is not a priority for me but what I noticed today is perhaps a bug. I am not sure because I have little experience with Uart and serial monitor except some with Arduino and that was a few years ago.
It is from this webpage
https://circuitdigest.com/microcontroller-projects/uart-communication-using-pic16f877a
Compiled at once with MPLab XC8
Once loaded into Simulide 877A the program crashes on Power Circuit Button.
See picture and hex- and simu-file if needed.
Another question I have is about the MCU-Monitor screen. It looks as if you can bring Status and PC (or RC?) to the foreground with a click but that is not happening ?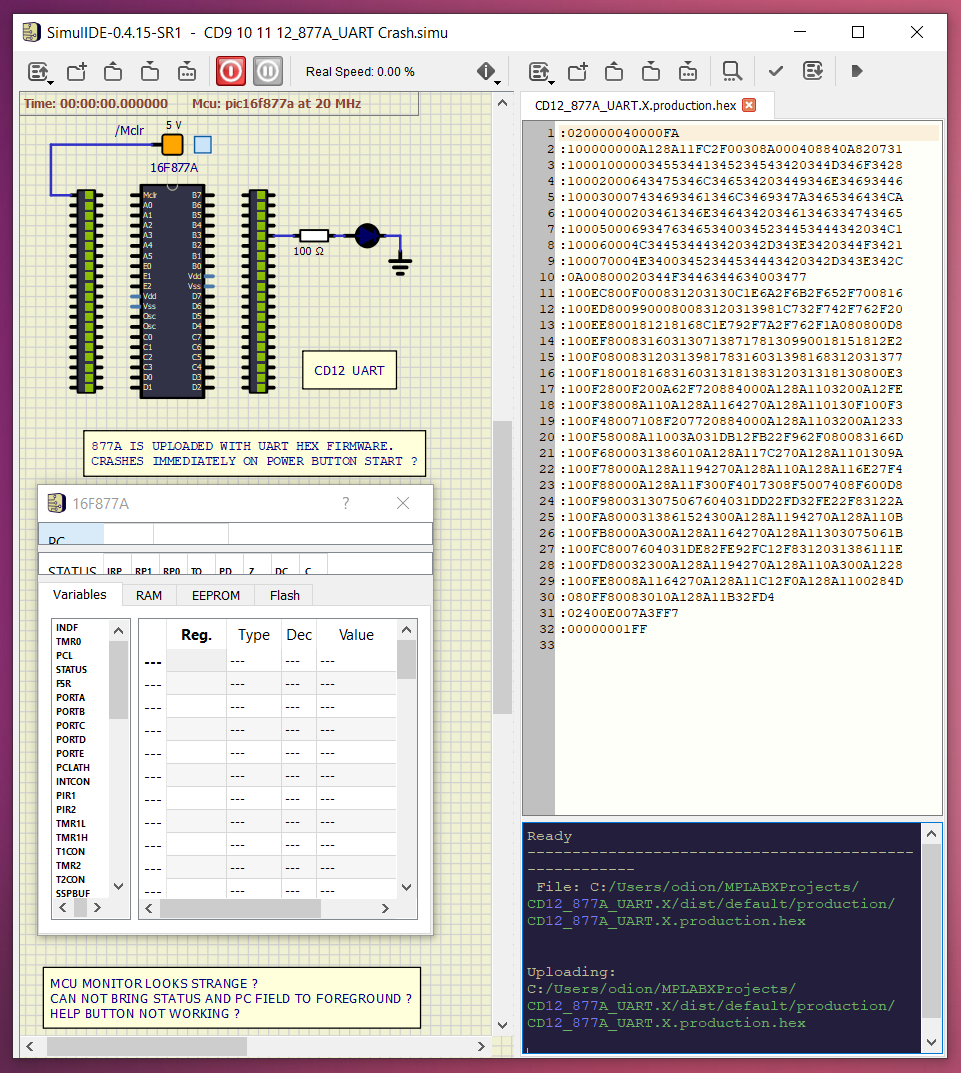 In the mean time I will take a closer look at the Simulide Mcu-tutorials and video's if I'm missing something. Thanks.
https://github.com/Alectus/Dump-sharing/blob/main/CD12_877A_UART.X.production.hex
same hex here with title CD12>
https://github.com/Alectus/uChip-controller-simulations
Simu>
https://github.com/Alectus/Dump-sharing/blob/main/CD9%2010%2011%2012_877A_UART%20Crash.simu
Ps, 0.4.14-SR4 Win64 loaded with the same Hex-file is not crashing on Start and is responding to keyboard input
I removed the 'IC-socket' Vdd/Vss wires but it made no difference in 4.15. Or in 4.14.
And now I am here, what is meant with MAIN MCU? Since only one can be in the central panel? Or is that option used in situations like in this video, around minute 5, where two simulations are opened and put next to each other
https://www.youtube.com/watch?v=WVBgmah6gE0


Last edited by Mistral on Thu Apr 22, 2021 9:13 pm; edited 5 times in total (Reason for editing : Ps)