So I'm making a voltage comparator.  When the inverted/reference voltage is higher than the non-inverted it outputs a few millivolts.  If the non-inverted is higher then it outputs a voltage just a few millivolts under the Vcc.
I connected a fixed volt component for the Vcc, one for the inverted input and one for the non-inverted input.  To manually test the comparator getting fluctuating voltage I clicked the non-inverted voltage source on and off for a while. It works perfectly every time.
When I made the comparator a sub-circuit and try this it works a few times, then gets stuck on some value under 1V.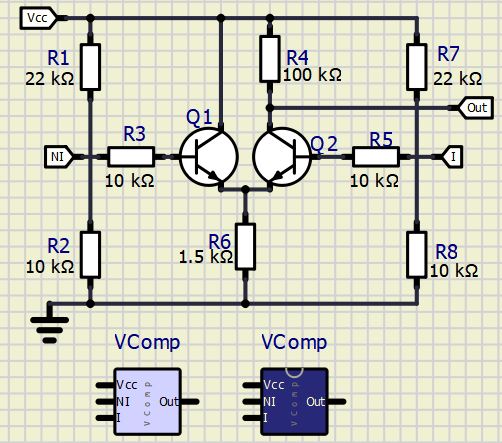 Attachments

VComp.zip

You don't have permission to download attachments.
(4 Kb) Downloaded 3 times

Test.zip

You don't have permission to download attachments.
(4 Kb) Downloaded 3 times


Last edited by arcachofo on Fri Dec 24, 2021 2:41 am; edited 1 time in total (Reason for editing : Marked as solved (green color))