Hello once more,
Working on Rev. 554.
I've been struggling to move from .simu to .sim5 files, as you remember, and now a new problem appeared that did not exist back in the .simu days.
I frequently use copy-paste of various components (already done that in dozens previous .simu files) and now something appears to be broken.
I create a simple new circuit such as:
In it there is a rail and a grounded 100 Ohm Led, which I then copy and paste. I finally connect, save as test.sim5 and close program.
If I reopen the file, one connection is gone: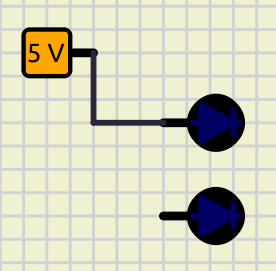 Same thing happens even if I manually change the label to something else (not that I expected otherwise...).
However, if I always drag new components from left side bar, the program can distinguish the two leds and things seem to work as expected.
Thank you in advance,
Theodore K.