Trying some other I2C devices, LCD AIP31068 and most examples on the internet use the library LiquidCrystal_I2C
I think I have tried ten or so but the display is not responding. I looked in the Simulide-share-examples-arduino and there is the display with the Mega and works great. Opening the ino-file it does not use the mentioned library. Maybe the internet examples are based on a display with a different controller chip.

Tried the Oled as well with this program after installing library
U8g2 and that worked straight away without any adjustments in code or address. 
It's in Dutch, my language.
https://github.com/BasOnTech/Arduino-Beginners-NL/blob/master/E18-OLED-I2C-SSD1306-128X64/OLED-I2C-SSD1306-128X64.ino
https://arduino-lessen.nl/les/128x64-i2c-oled-ssd1306-op-arduino-aansluiten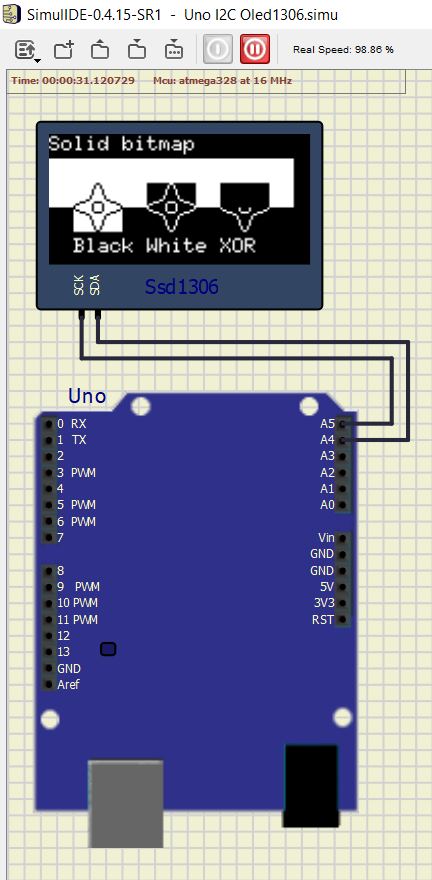 Very nice and amazing that these things can be simulated.
Looked in examples again and the Oled is there as well and is even better with colors but it can't do harm to have an extra program available.
@Feri, glad you have solved it and Arcachofo thank you very much again for your explanations. Tomorrow I'll continue with the Pic-projects but it was and is very nice to have used the Arduino again.